Community mourns loss of 5-month-old | News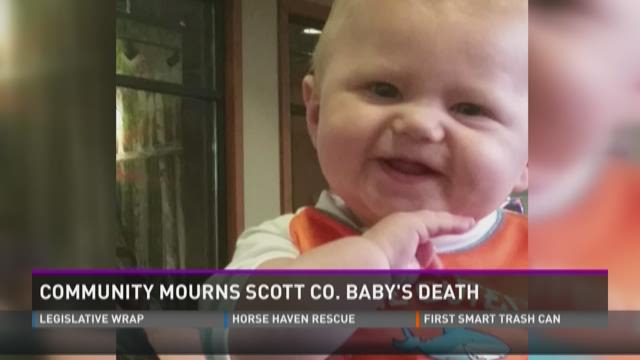 ONEIDA - A Scott County family is remembering a young life that ended too soon.
"From the day that Kaceton was born, he just brought so much joy in our life," said great aunt Teresa Crabtree, "He was so joyful all the time."
Kaceton Stephens brought happiness to his family, especially Crabtree and great aunt Vena Roy.
"We are a very large family so when we would gather," said Crabtree, "we would fight over who gets to hold him.
Now, they are clinging to memories.
"When you would look at him, he was always smiling, give you slobbery kisses, just kiss all over your face when you held him," said Crabtree.
Over the weekend, Kaceton suffered injuries that sent him to East Tennessee Children's Hospital in Knoxville, where he was fighting for his life.
It's a battle he lost, at just 5 months old. Authorities including the TBI are looking into his death.
RELATED: Scott County baby injured over weekend dies
"He was so joyful,"said Crabtree, "He brought so much joy to our life."
The Scott County community turned to social media to support the family, selling bracelets and T-shirts. They held a prayer service at Bethlehem Baptist Church on Saturday night.
"Small-town communities always come together in times of hardships and hurt and things that we go through," said Crabtree.
The family's main focus is to support Kaceton's mother, Micah, and his father, Taylor West.
"In the days that come, some resolution and some answers may give us some support," said Crabtree, "Our main focus is to support her as a mother."
"It hurts for us, but I can't imagine her pain, her going home to all of Kaceton's things," said Roy.
Micah and Taylor found a way to honor their son by donating his organs. A difficult decision. The family found out his liver had already helped a 4-month old baby, while his kidneys helped an adult.
"There's one thing for sure, Kaceton Layne will always be continued," said Crabtree. "His name will always be carried on."
The family decorated a ceiling tile in honor of baby Kaceton, it will hang in his room at Children's Hospital.
"It's been absolutely unreal, so touching, to know, and that's what's made this process a little bit easier to know that we have a community that is so loving," said Crabtree.
Plans for Kaceton's memorial are still underway.
A memorial fund has been set up at First National Bank in Oneida.
The family says they plan to set up a scholarship fund in May.
Kaceton's mother Micah was a standout athlete at Oneida High School, and they plan on awarding a scholarship yearly, to keep his name alive.
Micah Stephens shared this letter with WBIR:

Kaceton Layne Stephens was the happiest baby I had ever seen. Which made it even better since he was mine. He made a huge impact on mine and my family's lives. Actually, he brightened anyone's day that he met/smiled at.


I became pregnant at the age of 18 just being a senior in high school. I didn't tell anyone until I was 21 weeks, the day I found out that I was having a baby boy. I started college that September and he was born that November. ...which only made me want to go thru school even more. Not for myself, but for my beautiful bundle of joy.


I never told his dad, and I had to break it to him the day that the Dr.'s told me that Kaceton was brain dead. I wish I wouldn't have been so scared and told him because I could tell when he and his family looked at Kaceton, the love they had was unreal.


Even though he was only here for 5 months, I wouldn't have spent my last 5 months any different. The love that my family, community, and I have for this baby is absolutely unreal.