'Rocky Top' murderer killed in prison fight | News
A man convicted of murdering two workers at a Gatlinburg motel was killed in a fight with another inmate at the Morgan County Correctional Complex in Wartburg.
Officials pronounced Edward Leroy Harris, 58, dead at a local hospital Tuesday night. The Department of Correction is investigating the incident as an apparent homicide.
On Sept. 13, 1986, Harris also known as "Tattoo Eddie," and Joseph DeModica murdered the night clerk Melissa Suttles Hill, 21, and the night security guard Troy Dale Valentine, 36, in a motel room at Rocky Top Village Inn.
After handcuffing Hill, Harris and DeModica stabbed the 21-year-old woman 18 times before shooting her in the head.
Harris and DeModica knocked Valentine unconscious with a flashing before stabbing him several times in the chest, back, jaw, and neck, and then shooting him in the head.
The two men also stole $499 and Hill's purse.
Three days after the murders, an envelope marked "Please give to a policeman" was found in a phone booth near a police station in Maggie Valley, N.C. Inside the envelope was a letter and a small knife that belonged to Hill. The letter, written by Harris, contained information only the killers would have known.
On Dec. 16, 1987, officials arrested Harris in Atlanta, Ga.
Harris first met DeModica in a Georgia prison while serving a 10-year sentence for rape, armed robbery, and aggravated sodomy. DeModica told police that he, Harris, and Rufus Doby, also known as Ashley Silvers, met up in Fort Lauderdale, Fla. and traveled to Knoxville in August 1986. According to DeModica, he and Harris were trying to get jobs as male strippers in Knoxville.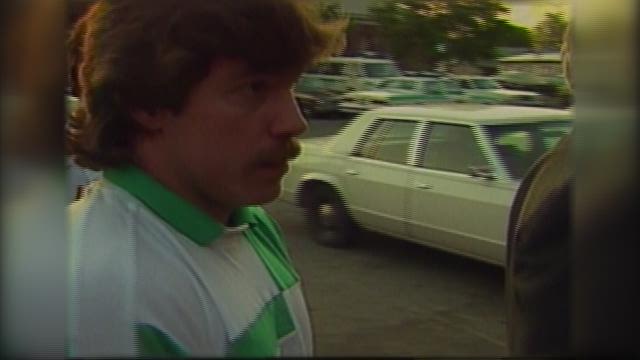 The day the murders happened, DeModica, Doby, Harris and his girlfriend, Kimberly Perry, drove through the Smokies and Pigeon Forge before ending up at the Rocky Top Village Inn in Gatlinburg.
Judges presiding over Harris' appeal in the Tennessee Supreme Court wrote in their conclusion that at the time, "This was one of the most chilling and brutal killings we have reviewed in the past 14 years."
A judge in 1988 sentenced Harris to death, but mental health experts in 2002 determined that Harris had a mental disability and could not be executed.
Authorities then removed Harris off death row. At the time of his death, Harris was serving three, consecutive life sentences.