One person killed in RV crash on I-75 in Campbell Co. | News
JELLICO, Tenn. - It was the kind of day to stay inside if you had the option.
Certainly, in northern Tennessee and southern Kentucky ice and snow made the going tough on roadways. Flooding also swept across streets and overtook lowlying spaces, including parks and flood plains.
The Tennessee Department of Transportation dealt with multiple wrecks Thursday. At one point it shut down Interstate 75 South in Campbell County near the Stinking Creek exit due to ice.
Earlier traffic backed up on I-75 north for most of the day after a fatal crash that was deemed weather related.
One person died after being thrown from a recreational vehicle about 11 a.m. in a wreck just north of the Stinking Creek exit.
The Tennessee Highway Patrol said two other people were trapped inside the RV and rescued.
THP has not released any crash information yet or information about the conditions of the people in the crash.
The crash report and any information about the people involved will not be released until family members are notified.
The farther north you drove, the more conditions went south on the interstate.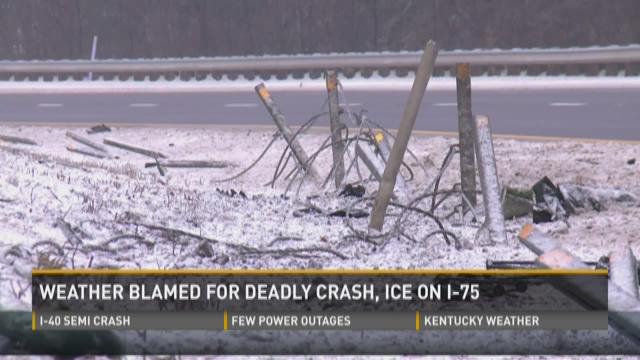 RELATED:
Latest East Tenn., Kentucky road conditions
Rain started turning I-75 into a slushy slalom in Powell Thursday morning, and before long temperatures dropped from 32 degrees to the low-20s.
Several wrecks littered the side of the interstate in Anderson and Campbell counties.
Elsewhere, conditions were slick at times Thursday morning but improved as the day went on. In Knox County, police switched for a time to using four-wheel drive vehicles to respond to calls, and some vehicles went off the roadways, including Interstate 640.
As always, THP reminds motorists to wear your seat belt when you get behind the wheel. Also, give crews treating roads or responding to accidents plenty of room.
Patches of black ice are possible Thursday night into Friday morning.
Rain - heavy at times - that fell before the freezing temperatures moved in and changed the precipitation to freezing rain, sleet, and snow kept TDOT from pre-treating roads.