Lonnie Lee Vann charged with murder of missing woman | News
JACKSBORO, Tenn. - While a former Campbell County teacher awaits prosecution on charges of kidnapping and first-degree murder in the death of a LaFollette-area woman, her family continues to grieve and search for answers.
"To be honest with you guys, I was hoping they would have had good news for the family to find her one day or the other," Daugherty's cousin Scott Kitts said as authorities announced indictments against Lonnie Lee Vann. "The case is not closed. It's not closure to everything here."
Rhonda Daugherty, 49, missing since Dec. 2, still hasn't been found.
A reward of at least $10,000 is being offered to find her.
"We still want the public to give us information if you can about Rhonda or this case. If you hear anything at all feel to call the Sheriff's Department," Campbell County Sheriff Robbie Goins said Wednesday afternoon.
The Campbell County Sheriff's Department, district prosecutor and Tennessee Bureau of Investigation held a press conference Wednesday afternoon to announce the charges.
A Campbell County grand jury returned the indictment against Vann on Wednesday morning.
Vann, 44, of Jacksboro, Tenn., is a former Campbell County Middle School teacher. He also has been charged with robbing a Campbell County couple at gunpoint back in early December, before leaving the area. He also faces armed robbery charges in South Carolina after leaving Campbell County.
Vann was arrested in mid-December in Myrtle Beach, S.C., after being added to TBI's "Most Wanted" List. He was pulled over for a traffic stop in Myrtle Beach. He remains in custody in South Carolina.
Vann is also facing prosecution for allegedly trying to kiss and hug a 13-year-old female student of his in Campbell County in October 2013. Documents obtained by 10News last month show that Daugherty's husband, Charles, is a witness in the case.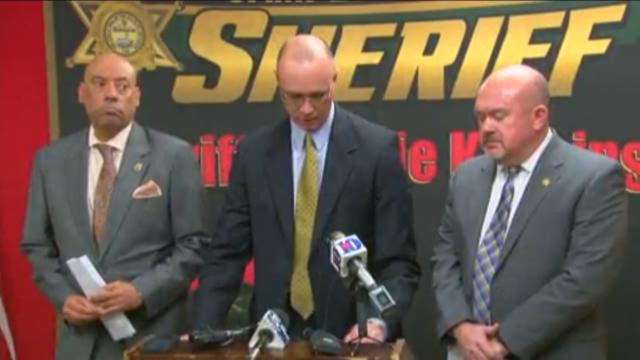 According to records, Vann was charged in July with solicitation of a minor, tampering with evidence and assault. Authorities say Vann took a 13-year-old student off school property in October 2013 to nearby Coolidge First Baptist Church, where he tried hugging and kissing the girl. Officials allege he also later altered images on the church's security camera recordings.
TBI officials have said only that special agents "developed information" that made them view Vann as a suspect in Daugherty's disappearance.
Vann and Daugherty both attended Coolidge First Baptist Church, which did not hold its regular Wednesday evening services this week, as Daugherty's father died on Tuesday and services for him took place Wednesday evening.
"He really grieved over his daughter, wanting answers and wanting her to come home, you know, and hoping that he would see her alive before he went to heaven," Kitts said.
Mr. Daugherty's death left Rhonda Daugherty's mother devastated.
"You can only imagine losing a husband, then losing a daughter," Kitts said, adding Rhonda "was her only child!"
By order Wednesday of Campbell County Criminal Court Judge Shayne Sexton
, Vann is being held in lieu of $1 million bond in the Daugherty disappearance. He has been served on the latest charges of two counts of first-degree murder and one county of kidnapping, according to 8th Judicial District Attorney General Jared Effler.
Investigators pointedly declined at Wednesday's press briefing to discuss the search for Daugherty.
TBI Director Mark Gwyn said the TBI was "fully committed to this investigation for the sake of pursuing justice for friends and family of Rhonda Daugherty."
"Our work, however, is not over and will not end until we try to piece together all the information and evidence and bring the individual responsible for this horrendous crime to justice," Gwyn said.
Goins offered thanks for numerous volunteers who have helped in the search for Daugherty.
Goins also asked the public to respect the Daugherty family's privacy now that Vann has been charged in her killing.
RELATED:
Search continues 3 weeks after Campbell Co. woman vanished
Daugherty was last seen the morning of Dec. 2 in the Coolidge community near LaFollette. She stands 5 feet 3 inches, weighs about 150 pounds and has auburn hair.
Charles Daugherty told 10News last month: "I came home Tuesday (December 2) evening around 6 o'clock and the doors were wide open and my wife was gone. All of her belongings were here. Her vehicle is here. Her cell phone is here and everything she owns is here, but she's gone."
Kitts said his hope "is going to be that they continue on doing the job and search for Rhonda. Hopefully, we'll put a closure to this so the family and the friends can be at peace of mind."
Scores of people stepped forward to help in the search. Yellow ribbons were put up around the entrance to the Daugherty home, and fundraisers were held to benefit the family. Her church posted her photo on its electronic sign, seeking community help to find her.
Related:
Reward increased for information about missing woman
Numerous East Tennessee agencies have helped so far in the Daugherty investigation including LaFollette police, sheriff's officials and search agencies from Knox, Blount, Anderson, Roane, Carter and Sullivan counties as well as Maryville police, the U.S. Marshals Service and authorities in Myrtle Beach.
The Campbell County Sheriff's Office can be reached at 423-562-7446.