TBI: No confirmed link between missing woman & wanted man | News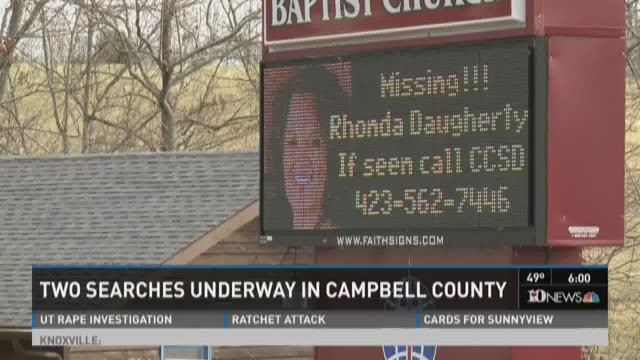 (WBIR - Campbell County) Investigators in Campbell County were immersed in two major searches on Monday. While the sheriff's office continued its search for a woman who has been missing for almost a week, state investigators are on the hunt for a man on TBI's Top 10 Most Wanted list.
Rhonda Daugherty was last seen in the Coolidge community near LaFollette where her home is located on the morning of December 2. Meanwhile, TBI's manhunt for former middle school teacher Lonnie Vann of Jacksboro.
Vann was already in legal trouble for an incident involving a 13-year-old girl when he was a teacher at LaFollette Middle School. 10News obtained the indictments against Vann on Monday. The list of witnesses in the case includes Rhonda's husband, Charles Daugherty. This fueled rumors in the community that the two cases could be connected. However, TBI told 10News right now it cannot confirm any connection between Daugherty's disappearance and the Vann investigation.
ONE WEEK GONE FOR MISSING WOMAN
It's been almost a week since Rhonda Daugherty was seen the morning of December 2 in the Coolidge community. On Monday, huge yellow ribbons wrapped around the entrance to the Daugherty home. Family members did not want to speak on-camera, but told 10News they are devastated while waiting for any news as to Rhonda's whereabouts. Daugherty's church has posted her photo on its electronic sign and asked for the community's help in locating her.
Related:
Reward increased for information about missing woman
Rhonda Daugherty is 5 foot 3 inches tall, 150 pounds, with auburn hair. There is a $5,000 reward for any information that leads to her safe return. Anyone with information can call 911 or the Campbell County Sheriff's Office at
MANHUNT CONTINUES FOR FUGITIVE
Last week TBI placed Lonnie Vann on its Top 10 Most Wanted list after he robbed a married couple at their home.
On Friday, investigators said Vann robbed Jim and Dian Fields, owners of Deerfield Golf Course in Campbell County near LaFollette. The couple knew Vann and said he had worked for them, so invited him into their home before he pulled a gun on then, tied them up, and stole cash and guns. TBI said Vann is considered armed and extremely dangerous.

There is a $1,000 reward for information that leads to his arrest. Vann is 44-years-old, 5'9" tall, and weighs 275 pounds.
If you have information, call 1-800-TBI-FIND.





Previous:
TBI adds former Campbell Co. teacher to Top 10 Most Wanted List




Vann was already facing legal trouble prior to Friday's robbery. In October 2013 when he was a teacher at LaFollette Middle School, Vann was accused of taking a 13-year-old girl off campus and brought her to the parking lot of the Coolidge First Baptist Church and tried to kiss her. A grand jury indicted Vann in July 2014 with solicitation of a minor, tampering with evidence, and assault.

No trial date was set for Vann as of yet. His next scheduled court appearance is in February 2015.

The grand jury indictment listed Charles Daugherty, the husband of missing woman Rhonda Daugherty, as one of the witnesses in the case against Vann. Although the Tennessee Bureau of Investigation is assisting the sheriff's office in its search for Daugherty, TBI told 10News it cannot confirm any connection between the two cases.