Coalfield community proudly welcomes home Yellowjackets | News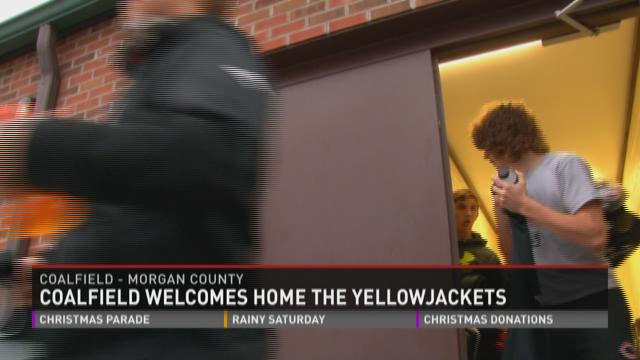 (WBIR-Coalfield) Coalfield went to its first football state championship game on Friday. Despite losing to Union City, 56-14, the community of Coalfield said this is a huge moment for their town.
"Everyone's been really excited and really happy and it's such a big thing and it's something that we didn't even think would happen," said Bailey Carter, a senior and cheerleader for the Yellowjackets.
Friday night, community members waited for the team to return from Cookeville.
"We're lining up from the library all the way down into the park to kind of welcome them home," said Ginger Reynolds-Brandenburg. She also attended the game.
Parents also waited for their kids, including Gary Stinnett; his son, Jacob Stinnett is a junior on the team.
"Oh, real special. Like I said, I'm just real proud of him," Stinnett said.
RELATED: Union City blows past Coalfield for second straight title
According to the 2010 U.S. Census, the population of Coalfield is less than 2,500.
"Nobody really expected these kids to even get past... Cloudland and here we are. We ended up playing for the state championship," Stinnett said.
The team is relatively young with a freshman quarterback, Parker McKinney, and four graduating seniors.
"Thanks for the support all through this season," said senior Addison Bible to the crowd surrounding the bus.
Coalfield Coach Keith Henry told 10News before leaving for the state championship game, "To me, football is like life--it's not where you start, it's where you finish... As long as you progress and get better each week, you know good things are going to happen to you and, you know, they have."